Sims 4 Nerd & Geek CC: Clothes, Glasses, Décor & More
This post may contain affiliate links. If you buy something we may get a small commission at no extra cost to you. (Learn more).
Having grown up a closet nerd/geek, I can't tell you how genuinely relieved I am to be part of a more accepting society.
Being a a geek no longer entails the same sort of social torture it did 30+ years ago (the golden age of swirlies, wedgies, and the lovable "four-eyes" nickname). Now, being a nerd is completely acceptable. And no one cares whether you want to broadcast it or not.
If your Sim is out and proud (about being a geek/nerd), then why not surround them with some awesome custom content that caters to their interests?
1.

Magic the Gathering Mana Shirts for Women by GalaxxyFoxx
Even if you've never played it, I'm willing to bet all my Simoleons that you've heard of it. Magic: The Gathering is pretty much a staple geek hobby; arguably on the same level as Dungeons & Dragons and Lord of the Rings.
This near-timeless card game has embraced the era of technology and introduced digital options, but hardcore nerds stick to good ol' printed cards.
Let your female Sim proudly display their love for this game – and their favorite color – with these pretty neat Magic the Gathering Mana Shirts by GalaxxyFoxx.
These simple short-sleeved, u-neck shirts come in 5 different designs. Obviously, one for each color (mana).
They do look a little boxy in-game (and the way they stick to the body looks a little awkward for bigger-chested women) but the concept's novel enough to give this a pass.
Also, the mana symbols just look hella cool.
2.

Male Nerd JV003 by JayVader
If the women get Magic: The Gathering, apparently the men get everything else.
Just like GalaxxyFoxx's MTG shirts, these Male Nerd JV003 shirts are classic long-sleeved, base-game-meshed numbers that allow your Sims to feature some pretty iconic nerd/geek symbols on their torso.
There are 10 designs in total, ranging from well-known Superhero logos (Batman, Superman, the Flash, etc.) to a harmless graphic of an unsolved Rubik's cube.
It's not winning any fashion awards, but it's definitely right up any nerd/geek's alley.
Think Sheldon Cooper from The Big Bang Theory.
Note: the title may say specifically for males, but turn off the style filter and your female Sim can shrug these shirts on too!
3.

Star Wars Shirt for Men by remaron
As a big Star Wars nerd myself, I will say that these awesome TS4 Star Wars shirts by remaron are freaking legit.
They definitely look like something you'd pick up from the novelty/character shop and wear in real life.
The creator doesn't say specifically where they got the designs, but I wouldn't be surprised if these were based off actual Star Wars merchandise.
And if they are, I think it's pretty awesome that you and your Sim can be nerd twinsies with these.
There are 9 designs in this CC set with two base colors: black and white.
But since the designs are already pretty graphic and have their own pop of color (i.e., BB-8 orange, classic Star Wars logo yellow, etc.), I think keeping the main color solid neutral was a smart stylistic choice.
And for my hardcore Star Wars fanatics out there, take a peek at our other CC list focused on TS4 Star Wars stuff.
4.

Nerd Glasses by Around the Sims 4
Now before you go off on me, I'm very much aware that there are plenty of glasses to choose from in the vanilla base game.
You don't really need to download TS4 CC to get one.
However, these glasses have a fun little detail that I think fits the narrative quite well: a taped bridge.
Glasses can be expensive, okay?
If your Sim is getting their glasses broken every other week, they can't exactly go around buying new frames every time.
Tape is effective, cost-efficient, and makes quite the fashion statement.
This pair from Around the Sims 4 comes in 20 different colors, and every group – from the neutrals to neons – seems to be well-represented.
5.

LAIRS & LLAMAS: A Dungeons & Dragons Themed Set by Valhallan
If you're a hardcore D&D player, then I hope you're sitting down.
Because this downright incredible adaptation by Valhallan has everything you could possibly need for a nice, long, dungeon-delving, dragon-slaying campaign.
Well, with it being in The Sims world and everything, I guess it's more of a lair-scoping, llama-herding situation.
Regardless, I'm not exaggerating when I say that this is hands-down one of the best CC packs you could download.
It's got maps and minis, dice and DM screens, character sheets, and helpful player books that make the whole setup feel freaking legit.
And if you're a D&D 5e player, you'll definitely recognize the covers and characters.
It's the little details – like having a Faerûn swatch of the map or a 5e version of the character sheet – in this pack that make it an absolute winner.
As a bonus, the character miniatures – which are beautifully crafted – double as usable toys!
So if your Sim's toddler feels like gnawing on a Skeleton Lord's head, they totally can do it in-game.
You can download each piece of the set individually or as a merged .package file.
A word to the wise: you'll need the mesh by dreamteamsims in order for the books to work. The creator has linked it in the description, but unfortunately, the link leads to a lost or deleted page.
The books worked fine for me in-game (as decorative "clutter" objects), but yours could function differently. I highly recommend putting all the items in this pack on a table, as they were intended to be. Placing them on the floor could mess with the mesh.
6.

TS4 Avengers Playable Action Figures by lolasimblr
Speaking of usable toys, check out this awesome TS4 CC pack full of – wait for it – Marvel superhero action figures.
Sure, The Sims 4 has got The Purple Protector & The Purple Pursuer. But why not expand the collection?
Thanks to the Marvel Cinematic Universe, every kid probably knows who Captain America, Iron Man, and Black Widow are.
I'd like to think this carries over in the TS4 universe.
Your Sim (and/or their kid) deserves some pretty iconic figures for their toy box, do they not?
Lolasimblr's CC pack comes with 8 playable action figures representing eight different Marvel superheroes. In alphabetical order (just to keep things fair):
Black Panther
Black Widow
Captain America
Hulk
Iron Man (2 versions)
Killmonger
Spider-Man
They work just like any other toy in the vanilla game, but it's unclear if playing with it will raise the imagination skill.
Regardless, it's still something cool for your Toddler Sim to play with (or for your slightly-adult nerd/geek Sim to decorate their room with).
7.

Marvel/DC-Themed Posters by ShesASimmer
What self-respecting comic book geek & fantasy nerd doesn't have a poster (or three) of their favorite fictional heroes?
With all the options that ShesASimmer gives us in this pack—seriously, there are 30 different poster designs—you're bound to find at least one piece your Sim will want tacked up on their wall.
Each poster goes for $65 simoleons a pop. And their mesh is the DJ Suuuuul Poster.
So this CC is, happily, base-game compatible.
Choose between classic Marvel comic covers, minimalist DC superhero headshots, Marvel TV show logos, Simmified superhero movie poster, and more.
8.

Comics Movies Posters by Novvas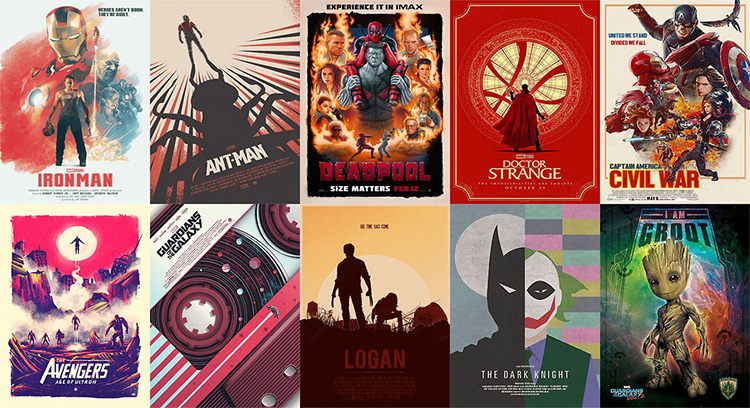 Sort of like ShesASimmer's Marvel/DC-Themed Poster, but have them framed.
This one doesn't have as many options as the previous pack. But it still introduces 10 new designs that you could potentially hang up on your Sim's wall.
And each poster comes in a stylishly protective matte black frame. This time, the theme is condensed to just popular comic/superhero movie posters like Iron Man, Doctor Strange, Captain America: Civil War, and the like.
They're also much cheaper than ShesASimmer's posters (at $10 per poster) so if you're on a strict no-cheats budget, these geeky posters are your best bet.
9.

Marvel Comics Décor & Readable Books by knockkonck
This awesome CC from knockkonck is the clutter pack your nerdy Sims didn't know they needed.
It's almost exactly what the title says: a décor item made to look like a stack of Marvel comics—with bonus readable Marvel comics that your Sim can purchase via computer or bookshelf!
Use it to decorate bedrooms, study rooms, home libraries, or even commercial comic book shops!
The décor pieces have 4 different variations: (1) a thin pile made up of just two or three comic books, (2) a standard row of comic books, (3) a standard row of comic books with the last copy separated and leaning against the row, and (4) a thick stack of comic books piled vertically, with the topmost copy displayed.
The first and fourth variation even come in 10 different comic book cover designs.
As if that wasn't cool enough, the creator even included a readable version of most of the comic books seen in the pile. They add 10 or so new books to the base game book list titled "Marvel Comics"—all of which can be bought for $250 Simoleons a piece.
10.

Bunny Gaming Chair by Desimny
Eccentric Sims have eccentric tastes that may (or may not) make sense to the non-geeks and non-nerds out there.
Take this oh-so-cute Bunny Gaming Chair CC by Desimny.
The design doesn't make sense, and neither does the need for ears. But is that gonna stop any gamer geek Sim from investing in this $250-Simoleon chair?
Absolutely not.
After all, nothing else screams "I mean business!" to your digitally-generated enemies quite like a pair of (maybe) cotton/pleather/polyester bunny ears.
Choose from 2 variations (with Simlish logo or without) and a total of 11 different swatches with three main colors (pink, black, and blue).
Browse:
1980s
1990s
7 Days To Die
Ace Attorney
Activision
Adventure Time
Age of Empires
Age of Wonders
Akame Ga Kill
Animal Crossing
Animaniacs
Anime
Anno
Ape Escape
Apex Legends
Ark: Survival Evolved
ARMA
Assassin's Creed
Atari
Barbie
Baseball
Basketball
Bastion
Batman
Battle Brothers
Battlefield
Battlefront
Battletech
Bayonetta
Beat Saber
Beavis and Butt-head
Besiege
best countries to study and settle 2020
best countries to study and work 2022
best countries to study in europe in english
best education system in europe 2021
Best European country to study and work
best place to study in europe
Blade and Sorcery
Blizzard
Bojack Horseman
Bomberman
Borderlands
Brawlhalla
Breath of Fire
Brick Rigs
Call of Duty
Cartoon Network
Cartoons
Castle Crashers
Castlevania
Chrono Cross
Cities XXL
Cities: Skylines
Civilization
Code Vein
Command & Conquer
Company Of Heroes
Cortex Command
Crash Bandicoot
Crusader Kings
Crysis
Cuphead
Daggerfall
Dark Cloud
Dark Souls
Darkest Dungeon
DC Comics
DDLC
Dead or Alive
Destiny
Deus Ex
Devil May Cry
Diablo
Digimon
disadvantages of studying in europe
Disney
Divinity: Original Sin
DIY
Donkey Kong
Doom
Dr Seuss
Dragon Age
Dragon Ball
Dragon Quest
Dragon's Dogma
Dungeons & Dragons
Dynasty Warriors
Earthbound
Ed Edd n Eddy
Empyrion
Epic Games
Europa Universalis
Fairly Oddparents
Fallout
Family Guy
FandomSpot Originals
Far Cry
Farming Simulator
FF6
FFXI
FFXIV
Final Fantasy
Fire Emblem
Forza
Frozen
Fullmetal Alchemist
Game of Thrones
Gift Guides
God of War
Grand Theft Auto
Gravity Falls
Greedfall
Grim Dawn
Gundam
Half-Life
Halo
Hanna-Barbera
Harry Potter
Harvest Moon
Hearts of Iron
Hello Neighbor
Homeworld
Horizon Zero Dawn
Horror
Hudson Soft
Hunter x Hunter
Insurgency
Jak and Daxter
James Bond
Japanese Culture
Jimmy Neutron
Johnny Bravo
JoJo's Bizarre Adventure
Jump Force
Jurassic Park
Just Cause
Kenshi
Kerbal Space Program
Killing Floor
King of Fighters
Kingdom Come: Deliverance
Kingdom Hearts
Kirby
Left 4 Dead
Legend of Grimrock
Legend of Zelda
LEGO
Looney Toons
Lord of the Rings
Mafia
Manga
Marvel
Mass Effect
Max Payne
Memes
Metal Gear
Metroid
Minecraft
MMO
Monster Hunter
Monster Rancher
Mordhau
Morrowind
Mortal Kombat
Mount & Blade
MTV
Mudrunner
My Hero Academia
My Little Pony
My Summer Car
My Time At Portia
Naruto
Netflix
Nickelodeon
Nier Automata
Nightmare Before Christmas
Nintendo
No Man's Sky
Oblivion
One Piece
Overwatch
Paladins
Paradox Interactive
Pathfinder
Payday
PC Gaming
Persona
Phantasy Star
Pikmin
Pillars of Eternity
Pink Panther
Pixar
Planet Coaster
PlayStation
Pokémon
Pop Culture
Portal
Postal
Power Rangers
Professor Layton
Project Zomboid
Quake
Radiata Stories
Railway Empire
Ratatouille
Ratchet & Clank
Ravenfield
Red Faction
Resident Evil
Retro
Rick and Morty
Rimworld
RPGs
Rugrats
RuneScape
Sailor Moon
Saints Row
Scooby-Doo
SCP
Sea of Thieves
Secret of Mana
Sega
Sekiro
Shadow Hearts
Shrek
SimCity
Simulation Games
Skyrim
SNES
Sonic
Soulcalibur
South Park
Space Engineers
SpellForce
Spintires
Splinter Cell
SpongeBob
Sports Gaming
Spyro The Dragon
STALKER
Star Ocean
Star Wars
Starbound
Stardew Valley
Steam
SteinsGate
Steven Universe
Stranded Deep
Street Fighter
Studio Ghibli
Subnautica
Sudden Strike
Super Mario
Super Monkey Ball
Super Smash Bros
Superman
SWAT
Tabletop Games
Tales Of
Team Fortress
Tekken
Tennis
Tetris
The Forest
The Simpsons
The Sims
The Witcher
This War Of Mine
Torchlight
Total War
Toy Story
Transport Fever
Trials of Mana
TV & Movies
TWEWY
Tycoon Games
Valkyria Chronicles
Vampire: The Masquerade
Vampires
Victoria
Video Games
Warframe
Wasteland
Watch Dogs
which country?
which european country should i study abroad in
Which school should you choose
Wild Arms
Wreckfest
XCOM
Xenosaga
Yu-Gi-Oh
Zombies