Sims 4 Entryway & Foyer CC To Download (All Free)
This post may contain affiliate links. If you buy something we may get a small commission at no extra cost to you. (Learn more).
Have you ever finished designing the perfect home for your Sims, and you're ready to hit that F1 button to get into some gameplay, and you realize your entire entryway is completely empty?
It's a relatively tough room to decorate.
Especially if you're faced with lack of funds, space, or even just design ideas. I for one am not ever too concerned about the rooms in my Sims' homes where they don't spend much time.
But an entryway is literally the first room your Sims (and their visitors) see when they come home. So it should really reflect the design of the entire house.
EA has given us a lot of items to dress up this little nook, but can we ever really have enough options? CC creators have turned The Sims 4 into an entirely new experience, so it shouldn't surprise anyone that there's a ton of CC for entryways, mudrooms, foyers, and all that good stuff.
1.

LittleDica's Sleek Slumber Floor Lamp
LittleDica deserves a medal for all the work they've been putting out.
This lamp is part of their newest CC pack called Sleek Slumber and it is so perfect that I didn't feel like it should just be kept up in the bedroom as the pack intends.
For as simple as this floor lamp looks, it could easily turn any plain entryway into a beautiful showcase.
It has a lot of very flexible swatches, and with its large shade, it could also be quite the statement piece to impress your visitors.
2.

Plumbob Tea Society's Deeliteful Wingback Chair
The Plumbob Tea Society is a group of CC creators who used to get together as a team and create some of the most incredible pieces.
And even though they're currently on an indefinite hiatus, the individual creators are still working hard for us TS4 players.
This wingback chair CC is such a classic piece that it could go anywhere in the home. But it would make a beautiful resting place in your fancy foyer.
It comes in twenty-five swatches with a mixture of both solids and patterns, and it's so well made you'd think it came to us straight from EA.
3.

Peanut Butter Jelly's Separated Tiny Botanicals/Succulents
One of my favorite things about CC for build/buy mode is that sometimes I'll see an item that I wish could be just a little different in-game, and these creators always just have something ready for us.
Peanut Butter Jelly has taken this adorable trio of planted succulents from Discover University and separated them to be used in other ways. And it's so cute!
This CC set comes with three individual plants, each with various swatches.
I mean, who wouldn't want to see these little smiling beauties every day on your way inside?
4.

Midnight Sky Sim's Night Before Dresser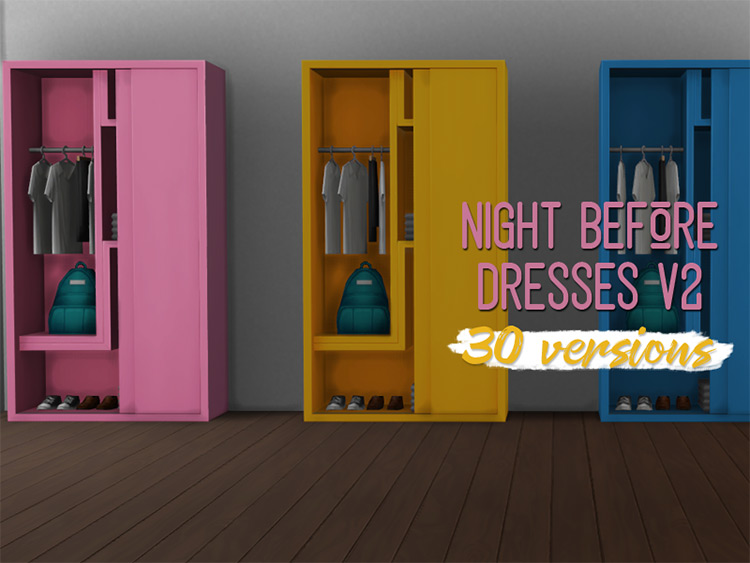 Staying in the same lane as the previous trio of plants, this creator has taken an already impressive dresser from City Living, and given us thirty new swatches.
I've personally used dressers in my entryways a lot. And this one has always stood out to me because it looks like it could double as a coat tree and shoe rack as well.
I mean, it just look to be the best place to grab a coat on your way out the door. Or even a great place for the kids to drop their backpacks off after school.
5.

Kardofe's Entryway Samantha
Now this one is a larger option for those homes with a bit extra space.
Kardofe has offered up three different colors of this large halltree/bench seat combo, and it's a statement piece.
It also has a lot of spaces to add in some clutter items.
6.

Madhox's Drop Zone
If you don't have enough space for the previous bench, then this CC by Madhox is perfect for you.
It's a blend of a dresser, a bench, and a bookcase. So you can really do a lot with it.
This comes in eleven swatches, and it also looks really nice in pairs for more seating, or with any of the other items on this list.
7.

Ravasheen's Peg to Differ Entryway Set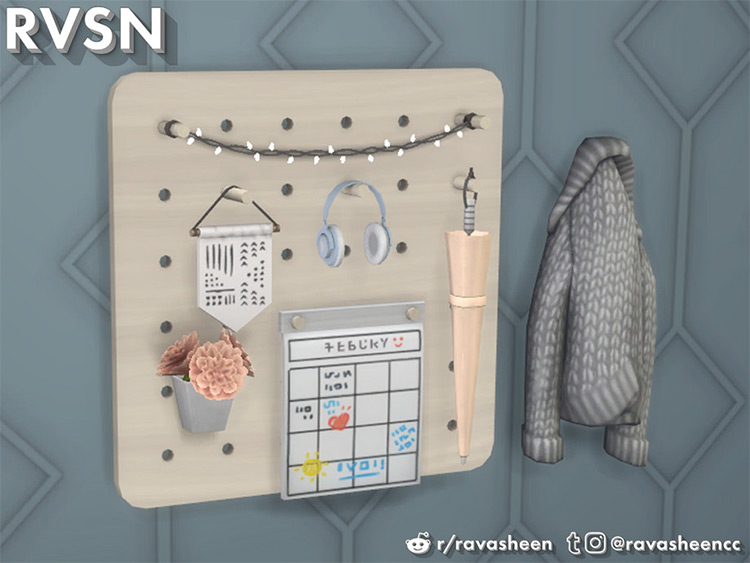 Ravasheen has a way of turning your Sim's everyday decor objects into fully functional items, and I'm always so impressed.
This entryway set comes with an umbrella that's a functioning umbrella stand, a pair of headphones that double as a speaker, and also a sweater hanging on the wall that doubles as a dresser.
All of these items are made to go on Rava's previously created peg board (which you can also get at the link above) that hangs on the wall and gives you so many design opportunities.
8.

Ravasheen's Peg To Differ Double Cubby
If you're going to get the Peg to Differ set, you might as well indulge and grab this double cubby CC as well.
It has two slots to fit clutter items in, and it can also be attached to the peg board, or placed elsewhere, whatever you prefer for your entryway.
This would make for a cute place to keep those little clutter items around the house, to give the space a more lived-in vibe.
9.

SIMcredible's Theorem Hallway Tree
Now this cute hallway tree is only for decoration.
But if it was paired with some of the previous CC, your sims would still have a place to change clothes. And you'd get those realistic vibes with this décor item in your space, too.
It has twelve different options for colors, and would match basically any design.
10.

Felixandre & Harrie-CC's Livin' Rum Pack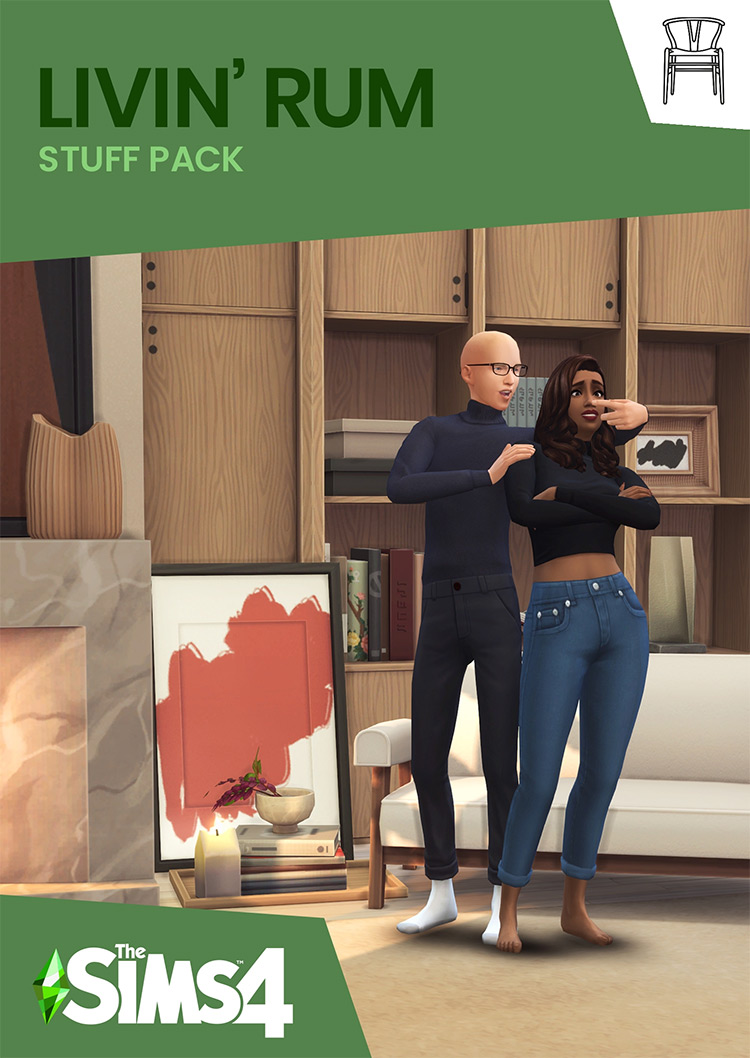 I'm rounding out this list with one of the newest additions to my own CC collection.
The Livin' Rum CC pack by these two creators is utterly perfect, and you should absolutely download all of it.
But the small little tray in this pack takes the cake for me.
It's such a simple thing, but it's really going to round out your entryway.
Your Sims now have a small tray to drop their keys in (even if we don't have cars yet). Or even to drop their cell phone onto.
The small little details that were put into this item are impressive.
There are multiple swatches that change the objects inside the tray, and there's even an option that looks to be full of office supplies, such as pens and post-it notes.
There's also an empty swatch, so you can decide what you want to have on there. Or maybe even leave it empty because it's just that cute.
Browse:
1980s
1990s
7 Days To Die
Ace Attorney
Activision
Adventure Time
Age of Empires
Age of Wonders
Akame Ga Kill
Animal Crossing
Animaniacs
Anime
Anno
Ape Escape
Apex Legends
Ark: Survival Evolved
ARMA
Assassin's Creed
Atari
Barbie
Baseball
Basketball
Bastion
Batman
Battle Brothers
Battlefield
Battlefront
Battletech
Bayonetta
Beat Saber
Beavis and Butt-head
Besiege
best countries to study and settle 2020
best countries to study and work 2022
best countries to study in europe in english
best education system in europe 2021
Best European country to study and work
best place to study in europe
Blade and Sorcery
Blizzard
Bojack Horseman
Bomberman
Borderlands
Brawlhalla
Breath of Fire
Brick Rigs
Call of Duty
Cartoon Network
Cartoons
Castle Crashers
Castlevania
Chrono Cross
Cities XXL
Cities: Skylines
Civilization
Code Vein
Command & Conquer
Company Of Heroes
Cortex Command
Crash Bandicoot
Crusader Kings
Crysis
Cuphead
Daggerfall
Dark Cloud
Dark Souls
Darkest Dungeon
DC Comics
DDLC
Dead or Alive
Destiny
Deus Ex
Devil May Cry
Diablo
Digimon
disadvantages of studying in europe
Disney
Divinity: Original Sin
DIY
Donkey Kong
Doom
Dr Seuss
Dragon Age
Dragon Ball
Dragon Quest
Dragon's Dogma
Dungeons & Dragons
Dynasty Warriors
Earthbound
Ed Edd n Eddy
Empyrion
Epic Games
Europa Universalis
Fairly Oddparents
Fallout
Family Guy
FandomSpot Originals
Far Cry
Farming Simulator
FF6
FFXI
FFXIV
Final Fantasy
Fire Emblem
Forza
Frozen
Fullmetal Alchemist
Game of Thrones
Gift Guides
God of War
Grand Theft Auto
Gravity Falls
Greedfall
Grim Dawn
Gundam
Half-Life
Halo
Hanna-Barbera
Harry Potter
Harvest Moon
Hearts of Iron
Hello Neighbor
Homeworld
Horizon Zero Dawn
Horror
Hudson Soft
Hunter x Hunter
Insurgency
Jak and Daxter
James Bond
Japanese Culture
Jimmy Neutron
Johnny Bravo
JoJo's Bizarre Adventure
Jump Force
Jurassic Park
Just Cause
Kenshi
Kerbal Space Program
Killing Floor
King of Fighters
Kingdom Come: Deliverance
Kingdom Hearts
Kirby
Left 4 Dead
Legend of Grimrock
Legend of Zelda
LEGO
Looney Toons
Lord of the Rings
Mafia
Manga
Marvel
Mass Effect
Max Payne
Memes
Metal Gear
Metroid
Minecraft
MMO
Monster Hunter
Monster Rancher
Mordhau
Morrowind
Mortal Kombat
Mount & Blade
MTV
Mudrunner
My Hero Academia
My Little Pony
My Summer Car
My Time At Portia
Naruto
Netflix
Nickelodeon
Nier Automata
Nightmare Before Christmas
Nintendo
No Man's Sky
Oblivion
One Piece
Overwatch
Paladins
Paradox Interactive
Pathfinder
Payday
PC Gaming
Persona
Phantasy Star
Pikmin
Pillars of Eternity
Pink Panther
Pixar
Planet Coaster
PlayStation
Pokémon
Pop Culture
Portal
Postal
Power Rangers
Professor Layton
Project Zomboid
Quake
Radiata Stories
Railway Empire
Ratatouille
Ratchet & Clank
Ravenfield
Red Faction
Resident Evil
Retro
Rick and Morty
Rimworld
RPGs
Rugrats
RuneScape
Sailor Moon
Saints Row
Scooby-Doo
SCP
Sea of Thieves
Secret of Mana
Sega
Sekiro
Shadow Hearts
Shrek
SimCity
Simulation Games
Skyrim
SNES
Sonic
Soulcalibur
South Park
Space Engineers
SpellForce
Spintires
Splinter Cell
SpongeBob
Sports Gaming
Spyro The Dragon
STALKER
Star Ocean
Star Wars
Starbound
Stardew Valley
Steam
SteinsGate
Steven Universe
Stranded Deep
Street Fighter
Studio Ghibli
Subnautica
Sudden Strike
Super Mario
Super Monkey Ball
Super Smash Bros
Superman
SWAT
Tabletop Games
Tales Of
Team Fortress
Tekken
Tennis
Tetris
The Forest
The Simpsons
The Sims
The Witcher
This War Of Mine
Torchlight
Total War
Toy Story
Transport Fever
Trials of Mana
TV & Movies
TWEWY
Tycoon Games
Valkyria Chronicles
Vampire: The Masquerade
Vampires
Victoria
Video Games
Warframe
Wasteland
Watch Dogs
which country?
which european country should i study abroad in
Which school should you choose
Wild Arms
Wreckfest
XCOM
Xenosaga
Yu-Gi-Oh
Zombies