ACNH Diner Ideas For Your Island (Indoor + Outdoor)
This post may contain affiliate links. If you buy something we may get a small commission at no extra cost to you. (Learn more).
While playing New Horizons, you've likely stumbled upon some items like a giant neon sign that reads "We're Open."
Many players use these items to make a cutesy little diner.
I've done it, but I know the struggle becomes how to make your own diner stand out.
After all, everyone is using the same tables, chairs, signs, and accessories. So, how can your diner feel unique, despite using all the same items?
Well here's some truly unique ideas for how you can make a diner with personality.
15.

Sweets Shop
This particular idea makes use of the typical accessories you'll see in most diner setups.
You'll need diner chairs, sofas, dining tables, stools, counter tables, and mini tables, all in a beautiful pink color.
What sets this idea apart is the utilization of various desserts that are displayed on the tables and counters.
While you'll need to wait until your birthday to obtain the birthday cakes and cupcakes, it's worth the wait to have so much sugary goodness at your disposal.
On the other hand, the various colors of candy machines can be bought at you leisure.
This isn't the most exciting diner variation. But having a specialty in desserts is enough to give it some charm.
14.

Valentine's Day Date Spot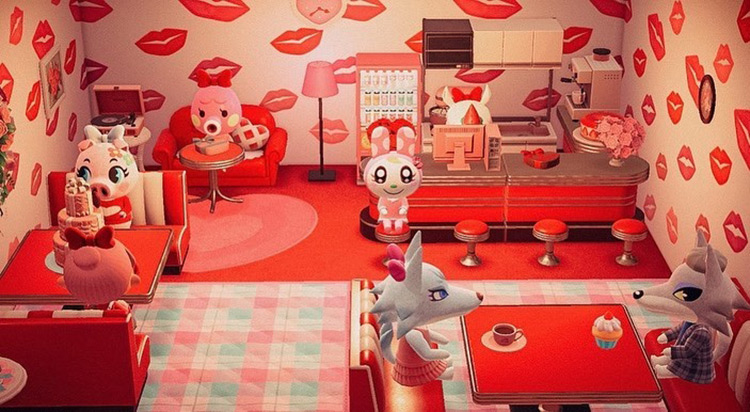 A diner is a great place for young couples to spend a Saturday night on the most romantic day of the year.
In this idea, you'll need to utilize the same counters, tables, and chairs in a red color, as well as some other unique furniture pieces.
The thing that makes this date spot stand out the most is the kisses wallpaper.
But if the lips are not your style, the red-heart pattern wallpaper is a good alternative.
You'll also want to obtain a cute sofa and a giant heart rug, both in red, to make a lovely waiting area.
Finish it off with some heart-shaped bouquets available in early February, because flowers on the counter bring together the romantic atmosphere.
13.

Drive-In Theater
What I find most interesting about this idea is that these are two separate locations that, when put together, make a really fun hangout spot for your island.
The diner area itself is comprised of your typical diner furniture items.
But just cross the street and you're ready for the post-dinner movie!
The key items you'll want to here are popcorn machines, because you can't not have popcorn at the movies.
The other key item is the many throwback race car beds pointed at the screen, acting like the many movie-goers seated in their cars.
And the last part is where you're able to be more creative. After obtaining three or four simple panels, line them up and customize them to display that night's feature film.
12.

Outdoor Bamboo Bakery
This idea fully embraces the possibilities of creating a diner outdoors by integrating bamboo in the design.
Once you have the area for your diner planned out, just plant bamboo trees around the perimeter to enclose it in a luscious bamboo forest.
You'll need to chop a ton of bamboo trees after you plant them, in order to craft most of the decorations that are pictured.
Most notably, there's the wall of bamboo partitions surrounding the joint to further the aesthetic.
Crafting bamboo lunchboxes also adds to the scene by suggesting that someone was already here, enjoying the natural beauty.
11.

Pizza Shop Diner
Mama mia, is this one gorgeous pizzeria!
Again, the furniture in this pizza diner is just a yellow variation of the diner counters and chairs.
However, this stands apart in its ability to perfectly capture the aesthetic of a typical pizzeria dining room.
You'll need some tables with cloth instead of diner tables, and you can customize the tablecloths to match the chairs as well.
The brick oven makes for an even more authentic away to cook pizza for everyone, so be sure save up enough clay to craft one.
The finishing touch is the simple panels customized to have a custom pizza pattern on them, which only gets everyone hungrier!
10.

Seaside Luau Bar
Something as simple as the location can truly make your diner stand out.
This idea places your personal eatery along the shores of your island's beaches, with a nice seaside view while you hang out with friends.
The furniture is a nice light blue to match the nearby waves that slowly crash by your tables.
Planting palm trees is a must to enhance the tropical vibes of a seaside bar.
Maybe shake down some coconuts off your palm trees to craft some coconut juice for everyone to enjoy.
Seashell decorations, such as the pictured sea globe, can help tie together the oceanside theme for the ultimate beach hangout.
9.

Starlight Arcade
Not every diner location needs to be focused on eating.
You can still utilize some of the same furniture, such as the diner neon sign and diner counter table, to create a cool underground arcade.
To create the starlight aspect of this arcade, you'll need to obtain the DIY recipes for the starry-sky wall and galaxy flooring from Celeste.
This may take a while to obtain these items from her, so be patient, and be sure to catch plenty of shooting stars.
You'll need star fragments to craft other cool nighttime projects like the starry garland as well.
Most importantly, you'll need purchase plenty of pinball and arcade machines for the whole island to enjoy. These items can be costly, so save up those bells!
8.

Classic 50's Diner
While this is probably one of the most basic ideas, I would not do this list justice without showing off a good 50's diner.
This is the foundation for all of these wonderful diner ideas, and there's good reason.
Firstly, diner wallpaper can bought at Nook's Cranny in multiple colors such as this lovely shade of pink.
In addition to typical diner furniture, this idea uses box sofas to create a larger booth for bigger parties to enjoy.
Menu boards, coffee cups, and espresso makers can all be purchased as well for a fun-spirited café that will take you back a few decades!
7.

Kitty Cat Café
In case you can't tell, the theme of this diner is cats.
As per usual, the typical diner furniture is present, but this time in a cool teal color.
As for the cat décor, the lucky cat statue can be obtained from Gulliver after you wake him up while washed up on your island's shores.
You can also buy the giant cat tower from Nook's Cranny.
The small detail that sells me on this design is that this creator was able to obtain the picture from Lolly, a cat villager, and displays it proudly on the wall.
It's also worth noting the villager is wearing a cat suit to visit the café. That's just purr-fect!
6.

Dim Sum Restaurant
In mentioning diners that specialize in different types of food, here's an elegant Japanese restaurant that has a unique variety of decorations.
The furniture here comes from the imperial set, featuring imperial tables, chairs, and partitions.
Handcarts are placed beside each table with steamer baskets sets on top, which require the seasonal spring bamboo to craft.
Lastly, there's a koi in a tank in the corner behind the counter.
While this is not mandatory to create this scene, it definitely adds a nice touch with a Japanese aesthetic if you don't mind going through the effort of catching a koi.
5.

Fast Food Joint
Fast food might not be the healthiest option for any meal.
But fast food diners sure make for an aesthetically pleasing place to eat.
In this design you'll find typical diner sofas, tables, and counters, all in red to match the desired restaurant's color scheme.
The red two-toned tile wall also helps to contribute to the fast food feel.
Where your creativity is able to shine comes in the fast food restaurant you wish to emulate.
This creator decided on KFC, which led to the red and white color scheme.
However, there are alternatives that can still work with these decorations. For example, they're all available in blue if you wish take make a Burger King sign.
4.

Magical Mushroom Diner
If you made sure to collect a ton of mushrooms around your island in November, then you're in luck.
This magical mushroom eatery is available at your disposal to create.
Use your mushrooms to craft the mushroom tables and stools, and then customize them to be the bright red you see here.
You can also craft mush lamps and parasols to add décor, and maybe even illuminate the scene at nighttime.
While there's only one garden gnome picture on the diner counter, you can purchase as many as you like to give your mushroom diner some permanent patrons.
3.

Seafood Restaurant
Including another popular type of cuisine, we have this stunning seafood restaurant decked out with tons of seaside decorations.
The fishing-boat flags come in four different variations as picture, which you'll need to collect and hang proudly on the walls.
You'll also need to obtain the ocean wallpaper and ship deck flooring from Sahara when she visits your island, so be sure to pay her a visit.
Lastly, some decorations you'll need to craft include the barrel, palm tree lamp, and seashell rug. These are all pretty simple to craft set your restaurant sailing!
2.

Basement Bar & Diner
Creating this basement bar honestly requires just about a little of everything from all the previous ideas.
There's diner stools in black, as well as various food items such as a candy machine, espresso maker, and blender.
Other decorations include arcade machines, pool tables, jukeboxes, and electric guitars, all of which can be bought or found in balloon presents.
The part that most catches the eye here is the multitude of wall decorations.
Some of my favorites are the world map, mom's painting, and the tapestry. However, you can use just about anything you want to decorate the walls as you wish!
1.

Honeycomb Hot Spot
I don't know what caused someone to think honeycombs would make for a good diner…
But it sure does look breathtaking.
All our typical diner counters and box sofas are present in a bright yellow to match the décor.
As for the walls and floors, you'll need wasp nests to craft the honeycomb set.
You'd better get out there and shake down some trees, and probably bring some medicine with you in case you get stung.
The band display consisting of the drum set, rock guitar, and microphone is also a nice touch, especially when you can find them all in yellow.
Lastly, the soft serve lamps can be bought at Nook's Cranny in a wonderful yellow that makes your honeycomb hot spot the number one hangout on the island!
Browse:
1980s
1990s
7 Days To Die
Ace Attorney
Activision
Adventure Time
Age of Empires
Age of Wonders
Akame Ga Kill
Animal Crossing
Animaniacs
Anime
Anno
Ape Escape
Apex Legends
Ark: Survival Evolved
ARMA
Assassin's Creed
Atari
Barbie
Baseball
Basketball
Bastion
Batman
Battle Brothers
Battlefield
Battlefront
Battletech
Bayonetta
Beat Saber
Beavis and Butt-head
Besiege
best countries to study and settle 2020
best countries to study and work 2022
best countries to study in europe in english
best education system in europe 2021
Best European country to study and work
best place to study in europe
Blade and Sorcery
Blizzard
Bojack Horseman
Bomberman
Borderlands
Brawlhalla
Breath of Fire
Brick Rigs
Call of Duty
Cartoon Network
Cartoons
Castle Crashers
Castlevania
Chrono Cross
Cities XXL
Cities: Skylines
Civilization
Code Vein
Command & Conquer
Company Of Heroes
Cortex Command
Crash Bandicoot
Crusader Kings
Crysis
Cuphead
Daggerfall
Dark Cloud
Dark Souls
Darkest Dungeon
DC Comics
DDLC
Dead or Alive
Destiny
Deus Ex
Devil May Cry
Diablo
Digimon
disadvantages of studying in europe
Disney
Divinity: Original Sin
DIY
Donkey Kong
Doom
Dr Seuss
Dragon Age
Dragon Ball
Dragon Quest
Dragon's Dogma
Dungeons & Dragons
Dynasty Warriors
Earthbound
Ed Edd n Eddy
Empyrion
Epic Games
Europa Universalis
Fairly Oddparents
Fallout
Family Guy
FandomSpot Originals
Far Cry
Farming Simulator
FF6
FFXI
FFXIV
Final Fantasy
Fire Emblem
Forza
Frozen
Fullmetal Alchemist
Game of Thrones
Gift Guides
God of War
Grand Theft Auto
Gravity Falls
Greedfall
Grim Dawn
Gundam
Half-Life
Halo
Hanna-Barbera
Harry Potter
Harvest Moon
Hearts of Iron
Hello Neighbor
Homeworld
Horizon Zero Dawn
Horror
Hudson Soft
Hunter x Hunter
Insurgency
Jak and Daxter
James Bond
Japanese Culture
Jimmy Neutron
Johnny Bravo
JoJo's Bizarre Adventure
Jump Force
Jurassic Park
Just Cause
Kenshi
Kerbal Space Program
Killing Floor
King of Fighters
Kingdom Come: Deliverance
Kingdom Hearts
Kirby
Left 4 Dead
Legend of Grimrock
Legend of Zelda
LEGO
Looney Toons
Lord of the Rings
Mafia
Manga
Marvel
Mass Effect
Max Payne
Memes
Metal Gear
Metroid
Minecraft
MMO
Monster Hunter
Monster Rancher
Mordhau
Morrowind
Mortal Kombat
Mount & Blade
MTV
Mudrunner
My Hero Academia
My Little Pony
My Summer Car
My Time At Portia
Naruto
Netflix
Nickelodeon
Nier Automata
Nightmare Before Christmas
Nintendo
No Man's Sky
Oblivion
One Piece
Overwatch
Paladins
Paradox Interactive
Pathfinder
Payday
PC Gaming
Persona
Phantasy Star
Pikmin
Pillars of Eternity
Pink Panther
Pixar
Planet Coaster
PlayStation
Pokémon
Pop Culture
Portal
Postal
Power Rangers
Professor Layton
Project Zomboid
Quake
Radiata Stories
Railway Empire
Ratatouille
Ratchet & Clank
Ravenfield
Red Faction
Resident Evil
Retro
Rick and Morty
Rimworld
RPGs
Rugrats
RuneScape
Sailor Moon
Saints Row
Scooby-Doo
SCP
Sea of Thieves
Secret of Mana
Sega
Sekiro
Shadow Hearts
Shrek
SimCity
Simulation Games
Skyrim
SNES
Sonic
Soulcalibur
South Park
Space Engineers
SpellForce
Spintires
Splinter Cell
SpongeBob
Sports Gaming
Spyro The Dragon
STALKER
Star Ocean
Star Wars
Starbound
Stardew Valley
Steam
SteinsGate
Steven Universe
Stranded Deep
Street Fighter
Studio Ghibli
Subnautica
Sudden Strike
Super Mario
Super Monkey Ball
Super Smash Bros
Superman
SWAT
Tabletop Games
Tales Of
Team Fortress
Tekken
Tennis
Tetris
The Forest
The Simpsons
The Sims
The Witcher
This War Of Mine
Torchlight
Total War
Toy Story
Transport Fever
Trials of Mana
TV & Movies
TWEWY
Tycoon Games
Valkyria Chronicles
Vampire: The Masquerade
Vampires
Victoria
Video Games
Warframe
Wasteland
Watch Dogs
which country?
which european country should i study abroad in
Which school should you choose
Wild Arms
Wreckfest
XCOM
Xenosaga
Yu-Gi-Oh
Zombies